Rheoluc CM
Especially developed for applications in Construction Materials, Rheoluc® CM products are soluble in cold water, exhibit a Pseudo Plastic viscosity profile and have excellent thickening properties due to its high molar substitution and pseudo plastic rheology.
As Galactomannan based Thickeners, Rheology Modifiers and viscosifiers, Rheoluc® CM products hydrate rapidly and hence, exhibit superior solubility, water binding and are more stable to microbial and enzymatic degradation than other thickeners based on natural sources.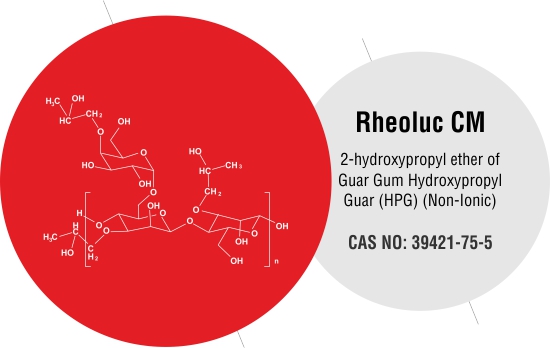 Rheoluc® CM products are derivatives of Guar Gum, a natural polysaccharide Galactomannan. Guar Gum is extracted from the endosperm of Guar seeds. The endosperm is then treated and modified in a number of ways to obtain the Derivatives of Guar Gum.
Being Nonionic Hydroxypropyl Guars (HPG), Rheoluc® CM products are manufactured by etherification of Guar Gum with Propylene Oxide and then modified in several ways to impart specific properties to suit a number of different applications.
Rheoluc® CM products are suitable in several Construction Materials based on Cement and Gypsum for: Tile adhesives. Tile Grouts. Plasters Wall Putties. Crack fillers and sealants. Brick laying. Flooring and levelling compounds. Textured plasters.
Rheoluc® CM products impart the following benefits to Construction Materials: Excellent Water Retention and Water Binding agent. Thickeners and Viscosifiers. Improves sag resistance of mortars and plasters. Stable at wide range of alkaline pH. Improved "creaminess" of the mortar. Ease of incorporation. Improved open time and setting time. Improved workability. Good adhesion strength Rheoluc® CM products are manufactured and available ex-stock or with short lead-times in India and supplied in 25 kilograms bags.